---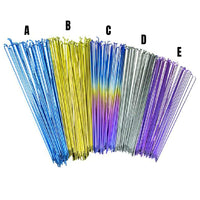 Titanium spokes are sold individually. The price listed is for one spoke.

Most modern freestyle BMX wheels use 36 spokes. Make sure to order at least 36 spokes for one wheel build and 72 spokes for 2 wheel builds. (If you are building the wheels yourself, it doesn't hurt to buy a few extra spokes, just in case.) 
*NOTE: Nipples are not included with titanium spokes and must be purchased separately.
PLEASE READ BELOW...
PLEASE, PLEASE include your phone number at checkout for any and all orders containing spokes. Each rim, hub combination requires a different length spoke and we will, more than likely, need to contact you in order to ensure we supply you with the correct length.
If you are ordering spokes as part of a Free Custom Wheel Build, we will choose the appropriate length spokes for the hub and rim combination on your order. If you are ordering spokes for anything else, or building your wheels yourself, please enter your rim/hub combination in the "Notes" at checkout to ensure we set you up with the correct length spokes. If you are unsure of your rim/hub combination or have additional questions, you can also place your order over the phone by calling the shop at (951)693-5200.
If your spokes will be part of a Custom Wheel Build, check out our Custom Wheel Build Page...HERE.
All chosen spoke lengths will be based on the information provided by the customer. Unless otherwise specified by the customer, all spoke lengths will be determined for use with 36 hole rims/hubs using a 3-cross lacing pattern. There will be no returns, exchanges, or refunds for any spokes that are incorrectly sized due to incomplete or incorrect information provided by the customer.