---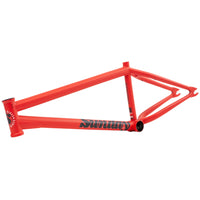 Made from 100% heat-treated 4130 chromoly. Hollow dropouts, integrated chain tensioners, Wave down tube and top tube, Cable Channel, screw-in cable guide, angled removable brake mounts, Director style wishbone, post-weld machining of the bottom bracket and headtube.
HEAD TUBE ANGLE: 75°
SEAT TUBE ANGLE: 71°
CHAINSTAY LENGTH: 13.2" - 13.5"
BOTTOM BRACKET HEIGHT: 11.5"
STANDOVER: 9"
TIRE CLEARANCE: 2.4"
HEAD TUBE:
5"
WEIGHT: 4.9 lbs.