---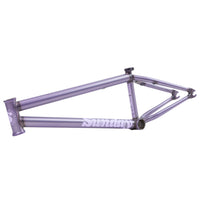 The Park Ranger is designed specifically for technical park, transition and street riding.
This new frame design draws inspiration from the Street Sweeper and makes use of its tube set and short chain stays to help create a tech driven frame with a steep head tube angle, a tall bottom bracket, hollow dropouts with integrated chain tensioners and a significantly lower standover.
The Park Ranger includes all of the necessary (and fully removable) braking and Gyro tab hardware that park and transition riders look for when building a new bike. The frame's front triangle makes use of traditional round Nightshift-style top and down tubes with proven internal gusseting for added strength.
KEY FEATURES
100% 4130 Chromoly Frame

Park and transition inspired geometry.

Nightshift style, double-butted, top and down tubes with proven internal gusseting.
Integrated seat clamp
Butted Seat Tube & Miter Cut Top Tube:


A miter-cut top tube creates a precise joint with the seat stays during welding. This increases the strength substantially over frames that use a "sandwiched" top tube at this critical junction.

Tapered Chain & Seat Stays:


Both chain and seat stays taper to provide a refined and clean look to the frame while still providing strength. They are both angled on the inside for improved chain clearance and weight savings.

Hollow Dropouts with Chain Tensioners:


Hollow 8mm wide dropouts are as light as a solid 5mm dropout, but over twice as strong. There is a small internal chain tensioner to hold the wheel in position and to simplify wheel removal.

Removable Brake Hardware:


Proven, removable, brake mounts and cable guides/stops work flawlessly when installed and allow for a sleek overall look when they're not.
GEOMETRY
Top Tube Lengths: 20.5", 20.75", or 21"
Head Tube Angle: 75.25°
Seat Tube Angle: 71°
Chainstay Length: 12.70-13"
Bottom Bracket Height: 11.625"
Standover: 7.625"
Tire Clearance: 2.4"
Head Tube Length: 4.8"
Weight: 5lbs