---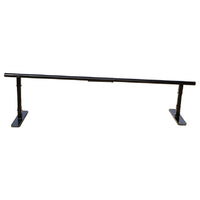 Sale
THIS ITEM IS CHARGED A FLAT-RATE BULKY/HEAVY ITEM SHIPPING COST. The flat-rate shipping cost of this item will be added onto the standard shipping cost of any other items you purchase.
The S&M Slide Pipe V2 (Adjustable Height) is a heavy-duty, portable BMX rail designed and built to withstand the rigors of even the heaviest street riders. Oversized, steel bases and commercial-grade, rubber feet keep the rail firmly in place while uprights made from square, steel tubing won't allow bases to twist, even without hardware! The super-strong, extruded, center connector has a thick spine featuring tapped threads that won't pull out, plus a reinforcement plate that spans all four connecter bolts for added strength. According to Charlie Crumlish, the Slidepipe is, "Rock F'n solid!"

•8' long assembled 
•Adjustable Height from 18" to 24" tall 
•Oversized 12mm thick steel bases 
•Commercial-grade, molded rubber feet with Shield logos
•Extruded center connector with tapped threads 
•High quality 6mm button head screws and 17mm lock nuts 
•Plastic end caps with Shield logos 
•"Rock F'n Solid" 


NOTE: No returns or exchanges on any grind rails or rail accessories.