---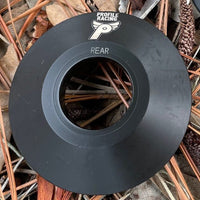 CNC machined from Delrin (a really strong and durable plastic).
Non-drive side hub guard compatible with Profile Mini, Totem and Elite cassettes, Profile Z-Coaster and Madera V2 cassette hubs using a 14mm axle.
Only works with Profile or Madera 14mm rear axles as the guard fits over the non-drive side jam nut. WILL NOT work with 3/8" hubs.