---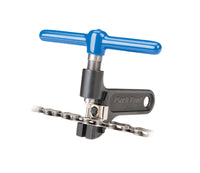 A professional, shop-quality chain tool that works with 1/8" or 3/16" single speed BMX chains and also 5 to 12-speed / 3/32" road and mountain bike derailleur chains.
Works with single speed half link chains
The CT-3.3 features an adjustable locating shelf so it works on any width chain to remove and install chain rivets. Built to last and easy to use, the CT-3.3 features a comfortable handle, investment cast steel body and replaceable driving pin.