---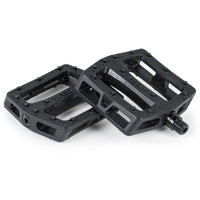 Thin profile composite pedal body, completely flat, without any kind of bump or raised section. Larger overall surface area, a dual concave design, and a micro-knurled surface.
A larger pedal gives the foot more support, especially on tricks where your feet come off and also on hard landings, since the load is more spread out and evenly distributed. The Seeker pedal Uses twin sealed bearings and a bushing for extra support.
Replacement pedal bodies sold separately.
9/16"
Sold in pairs. 
NOT COMPATIBLE WITH 1-PIECE CRANKS.