---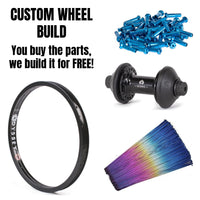 You buy the hub, rim, spokes and nipples... We build it for FREE!
PLEASE READ BELOW...
Order your preferred hub(s), rim(s), and spokes from there respective categories and add a " Custom Wheel Build" (or two) to your cart. We'll do the rest.
If you'd like us to use spokes other than 14 gauge black, please place your ENTIRE order over the phone by calling (951)693-5200.
PLEASE, PLEASE include your phone number at checkout so that we might contact you with any concerns, issues, or questions that might arise. We will also contact you in the event that you order more than one Custom Wheel Build to ensure we lace the correct rims to the correct hubs.
Our Free Custom Wheel Build feature can only be used when a rim, hub, and spokes are all ordered at the same time on the same order. This feature cannot be applied with previous purchases or with any rim, hub, or spokes purchased separately.
Please allow an extra day or two for all orders to ship that contain a Custom Wheel Build.
There are no returns, exchanges, or refunds on Custom Wheel Builds.