---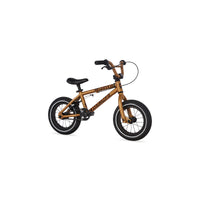 THIS BIKE CURRENTLY SHIPS FOR FREE!
Note: Adding additional items to your cart might void the free shipping offer.
FRAME: 13" TT Cro-Mo Top & Down Tubes.
GEOMETRY: 12.
HEADSET: A-Headset.
BB: Sealed Mid.
BARS: 2-Piece 4.5"x 19.75".
FORK: New 31mm Offset Cro-Mo Steerer Tube.
STEM: Mini Front Load.
GRIPS: FIT Misfit.
SEAT: New Flatter/More Padded Integrated Combo.
SEAT CLAMP: Quick Release.
CRANKS: Tubular Cro-Mo 75mm.
SPROCKET: FIT Bite 23T.
PEDALS: Nylon Platform.
FRONT WHEEL: 16H Single Wall W/Unsealed Hub/Domed Nuts.
REAR WHEEL: 16H Single Wall w/Sealed 9T Cassette/Domed Nuts.
TIRES: FIT OEM 2.1" W/Curved Valve Stems.
BRAKES: Odyssey Springfield w/Linear Cable/Short Reach Lever.
WEIGHT: 15.4 lb / 6.98 kg

*Spec subject to change based on component availability.